Virginia Artist Miriam A. Kilmer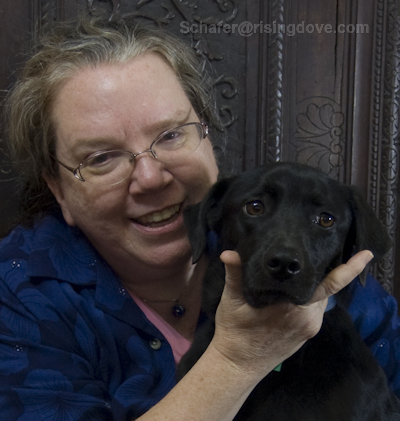 "Miriam A. Kilmer with Chaos"
© 2011 Jennifer Schafer
View Detail
       Miriam Kilmer has been surrounded by the arts since early childhood. Her parents founded Green Hedges Elementary School (still flourishing in Vienna, VA) in order to give their ten children a superior education with emphasis on the arts. Her ancestors include poets Joyce and Aline Kilmer and American Impressionist Frederick C. Frieseke. (Miriam's experience in the challenges of preserving Frieseke's works on paper has encouraged her to use archival materials in her own artwork.) Enriched by this background, Miriam and all of her siblings have continued to develop their artistic talents throughout their lives.
 
       Miriam earned her Bachelor of Fine Arts in Painting and Printmaking at UNC-G, and her Masters in Theology from De Sales School of Theology. She has led art workshops with children and adults, worked as a portrait studio photographer, and operated her own fine arts business since 1979.
 
       Over the years Miriam has developed a variety of distinctive styles, influenced by the medium, subject matter, and purpose of the artwork, as well as her widening outlook and diverse environments. She now specializes in pastel, photography, computer graphics, and web design. Her unifying theme is love for the Source of creation and all that flows from that Source, as evidenced by her focus on nature, portraits, and spiritual subjects.
 
       Miriam has exhibited her works in numerous juried and solo shows. Her photographs have been published in magazines, newsletters, and books, most notably the Shapenotes issue of Smithsonian in The Classroom. Her artwork is included in private collections in Canada and France as well as the United States.
 
       The Shenandoah Valley is a familiar place to Miriam. From early childhood, the Blue Ridge Mountains and Shenandoah Valley were among her favorite places to visit. Since the early eighties, she has made numerous visits to the area, including her yearly week on Bryce Mountain, taking thousands of photographs of local wildlife and farm animals.
       - by Lisa Kadel
Artist's Statement
        I am inspired primarily by my love for people and my reverence for nature. My pictures come from many places, such as my native Virginia and other states I have visited, notably the southwest landscapes of Arizona and New Mexico.
 
        I love the challenge of photographing animals: birds - especially birds in flight - butterflies, cats, deer, and so on. I am fascinated by the power of the camera to freeze moments which pass so quickly they are easily missed. These include not only living things such as darting animals, nodding flowers, and trees blowing in the wind, but also rocks, cliffs, clouds, and landscapes as they are changed by wind, storms, and shadows in shifting sunlight from sunrises to sunsets and twilight.
 
        From 2011 through 2019, I have scoured the development where I lived, daring myself to make exciting images from what I came across in a confined area. I looked for beauty, significance, and humor, seeking out both striking anomalies and iconic themes.
 
        The pandemic, combined with mobility problems, has restricted my photographic forays almost exclusively to my Alexandria home balcony and the indoor antics of my two rescue cats. I revel in the glorious skyscapes available to me with my eastern view, and try not to moan about all I am missing. I miss most our frequent visits to three of our bdloved, photogenic great-nieces and their parents.
 
        Although nature photography is my first love, I also enjoy taking portraits, and happily take commissions. During the pandemic, I am acceptiong orders only for pencil portraits.
 
        When choosing which of my thousands of images to offer on my website, I look for a spiritual quality, dramatic composition and sumptuous color. Whether you choose to order artwork or are simply here to browse, I hope you enjoy the pictures I exhibit.