Frederick Carl Frieseke was my mother's father. At the peak of his career, he was one of the best-known of the many American Impressionists in Europe.
Monographs
Larger Image
Coupons




Frederick Carl Frieseke: The Evolution of an American Impressionist

; Nicholas Kilmer, Linda McWhorter, David Sellin, Virginia Mecklenburg, and H. Barbara Weinberg   Princeton University, Department of Art   Archaeology, April 2001   (Telfair Museum of Art April, 2001)   Hardcover
       "The book's groundbreaking scholarship casts new light on Frieseke, American Impressionism, and the art world at the turn of the last century." - from the Editorial Review at Amazon.com.
 
       Serving as the catalog for a major traveling retrospective show of the artist, this fully-illustrated hardback has come out to coincide with the Exhibition at Telfair Museum of Art. This is not Frieseke's first major retrospective show, but it the most comprehensive traveling show, and the largest since the 1939 show at New York's Grand Central Art Galleries. The Telfair organized a smaller traveling exhibition in 1974, and published a modest catalog. The new book is "coffee-table" sized (over 12" x 10") - 219 pages, lavishly illustrated with b & w photos, b & w and color reproductions of art works, many half-page color reproductions and several full-bleed plates. Nick's biography of his grandfather is greatly enhanced by the inclusion of information and quotations from family letters, which our sister Anne has been sorting, transcribing, and archiving. There are also essays David Sellin, Virginia Mecklenburg, and H. Barbara Weinberg, and contributions by Linda McWhorter, the coordinator of both exhibition and catalog. Frieseke's well-known major impressionist masterpieces in oil are shown along with his lesser-known works: early and later oils, small watercolors, drawings and cartoons; these give a well-rounded picture of his breadth and development as an artist. Many well-illustrated catalogs of his work have been published in the past - I have six of them on my shelf - but this is by far the most comprehensive. Our hope and confident expectation is that this impressive volume will give "name recognition" to a painter of many well-known and beloved images.
       Phonemes with lexical stress from the CMU Pronoucing Dictionary:

F R IY1 Z EH0 K AH0


       You can come close by saying "FREEZE a cup" quickly, leaving off the final "p."
 
       Amazon.com         Amazon.uk.co
 
"Frederick Carl Frieseke" by Hollis Koons McCullough and Linda McWhorter in

American Art Review

, Vol.XIII, No. 2. Magazine article derived from essays by Nicholas Kilmer, David Sellin et al. in

Frederick Carl Frieseke: The Evolution of an American Impressionist

. (American Arts Media, Inc., 2001)  Periodical  March-April 2001
Twenty full-color reproductions from the show; the cover shows a detail from Frieseke's "Breakfast in the Garden."
 


F.C. Frieseke

; Nicholas J. Kilmer.   Maxwell Galleries LTC., California, 1982   OP*        Quality Paperback Exhibition Catalog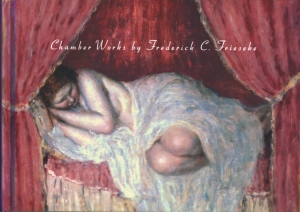 Chamber Works by Frederick C. Frieseke; Nicholas Kilmer
Amazon.com
 

 
Uneventful Reminiscences: A Childhood in Florida; Frederick C. Frieseke
Amazon.com
 
 

 


It's Only the Cannon

; Frances Frieseke [Kilmer], illustrated by Frederick C. Frieseke   Paperback
New in shrinkwrap. Buy directly through Rising Dove Bookstore
 
See an image of the oil painting to which this sketch refers among the Frieseke Posters.
 
Also available through
 
Amazon.com
 


Frederick Carl Frieseke: the Evolution of an American Impressionist (Learning from Exhibitions): An article from "Arts & Activities"

; Mark M. Johnson Amazon.com This digital document is an article from Arts & Activities, published by Publishers' Development Corporation on January 1, 2002. The length of the article is 1308 words.... The article is delivered in HTML format and is available in your Amazon.com Digital Locker immediately after purchase.

Poetry & Fiction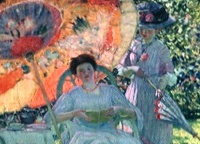 No Word of Farewell: Selected Poems, 1970-2000

; R. S. Gwynn.  Story Line Press, 2001   Paperback
book cover image
detail
       The cover illustration is F. C. Frieseke's "The Garden Parasol" from the North Carolina Museum of Art. R. S. Gwynn is the author of the poem "The Garden Parasol," which was published in

The Store of Joys

(see below). My favorite living poet, Richard Wilbur, has this to say:

       R. S. Gwynn's

No Word of Farewell

is full of a dark and sardonic view of things, though that mood can modulate into the elgiac, or into the exquisite poignancy of such a poem as "Release." Whatever darkness prevails in this book is continually alleveated by wit, and by a Byronic pleasure in formal play. His poems are based on the vernacular, yet haunted by the whole tradition of verse. This is a richly varied, highly accomplished collection from one of our best.
       Amazon.com
 


The Store of Joys: Writers Celebrate the North Carolina Museum of Art's Fiftieth Anniversary

; edited by Huston Paschal.   North Carolina Museum of Art in association with John F. Blair Publisher, September, 1997.   Paperback
Frieseke's "The Garden Parasol" is reproduced on page 84, with a response by Elizabeth Spencer. Her essay on the painting and its creator is both personal and scholarly. R. S. Gwynn chose the same painting (the museum's only Frieseke) as the subject for a sensitive poem of the same title. It is interesting to note the very different reactions of these two North Carolina writers to the same work of art.
       Amazon.com


 


Charlotte in Giverny

; Joan MacPhail Knight, Melissa Sweet (Illustrator).   Chronicle Books, April 2000
An American child travels with her parents to Giverny. There she meets Imprepressionist painters, including Monet and a number of American artists. One of the illustrations is F. C. Frieseke's "Lilies." This is a beautiful book for all ages. There are extensive reviews at the links below.
       Amazon.com
Art, Art History, and Exhibition Catalogues
150 Years of American Painting 1794-1944: From the Collection of the Museum of Art, Brigham Young University

; Linda Jones Gibbs.   Brigham Young University Museum of Art   Hardcover
Introductory essay by Linda Jones Gibbs. Selected bibliography.
Amazon.com
 


American Impressionism

; William H. Gerdts   Abbeville Press &$160; Hardcover
This classic work is lavishly illustrated with masterworks by such noted artists as Chase, Hassam, Twachtman, and Frieseke. 400 illustrations, 200 in full color.
       Amazon.com
 


American Impressionism (Tiny Folio)

; William H. Gerdts.   Hardcover Miniature
       Amazon.com
 
       Paperback   Amazon.com
 


American Impressionism: Treasures from the Smithsonian American Art Museum

; Elizabeth Prelinger   Watson-Guptill Publications, New York, 2000.   Paperback
There is a gorgeous reproduction of Frieseke's "Nude Seated at Her Dressing Table" on p. 41, with an enthusiastic description. This is a great coffee-table or gift book with interesting text.
       Amazon.com
 


American Painters in the Age of Impressionism

; Emily Ballew Neff, George T. Shackelford   Quality Paperback Exhibition Catalog
       The cover illustration is F. C. Frieseke's "Lady with a Parasol" from the Museum of Fine Arts, Houston. Included are magnificent full-color reproductions of these Frieseke paintings: "Girl Reading" c. 1900, o/c 107.6 x 90.8 cm, The Museum of Fine Arts, Houston; "Lady in Rose" c. 1910-1915, o/c, 82.2 x 82.2 cm, William Hill Land & Cattle Co.; "Sewing in the Garden" c. 1915, o/c 74.6 x 93 cm, Ann Gordon Trammel.; "Sunbath" c. 1910, o/c 73.4 x 92.7 cm, The Museum of Fine Arts, Houston; "Lady with a Parasol" c. 1908, o/c 64.8 x 81.3, Private Collection.
       Amazon.com
 


American Paintings of the Nineteenth Century: Part 1

; Franklin Kelly, Nicolai, Jr Gikovsky, Deborah Chotner (Contributor), John Davis (Contributor), Nancy Anderson.   A National Gallery of Art USA Publication, December, 1996   Hardcover
Full-color reproductions of the two Frieseke paintings in the National Gallery's collection are presented here: "Basket of Flowers" and "Memories." Please note that they are both early 20th Century Works!
       Amazon.com
 


Americans in Brittany and Normandy 1860-1910

; David Sellin, James K. Ballinger   Trade Paperback, 230 Pages, Phoenix Art Museum, January 1983   OP*   ISBN: 0910407002
       Amazon.com
 


Art in Florida, 1564-1940

; Maybelle Mann.   Pineapple Press, Inc., 1999   Hardcover
       It's a well-made book with many glorious reproductions. Unfortunately the one reproduction of a Frieseke painting, "The Jetty," is dark and blurry. (It's caption says "untitled.") The text is interesting, though.
       Amazon.com
 


California Impressionism

; William H. Gerdts, Will South Abbeville Press, Inc.,1998   Hardcover
F.C. Frieseke's father lived in California. Fred visited, painted, and exhibited there, which was Gerdts' excuse for including him in this glorious book.
       Amazon.com
 


Please note:

California Impressionists

by Susan Landauer is a different book. It does not have any mention of Frieseke. It is nonetheless a beautiful book!   Hardcover


 


Impressions of Giverny: A Painter's Paradise 1883-1914

; Rosalie Gomes.   Paperback   OP*
       Amazon.com
 


Masterworks of American Impressionism

; William H. Gerdts.   Hardcover   OP*
       Amazon.com
 


Sotheby's Art at Auction: The Year in Review 1995-96 (Serial)

; Coran Octopus   Sotheby Parke Bernet Publications (December 1996)   Hardcover
       On page 103 is a beautiful full-color reproduction of a marvelous Frieseke portrait of his wife, "In the Garden, Giverny," c. 1910-12. This painting combines the brilliant palette and painterly brushwork of Frieseke's Impressionist period with solid modeling and fine detail.
       Amazon.com
 


The American Painting Collection of the Sheldon Memorial Art Gallery

; Norman A. Geske, Karen O. Janovy.   University of Nebraska Press, March, 1989.   Hardcover
A beautiful reproduction of Frieseke's "Summer" is included. This is a rarely-seen portrait of a blond woman in front of drawn blinds.
       Amazon.com
 


World Impressionism: The International Movement, 1860-1920

; Norma Broude, Editor.   Harry N. Abrams Inc., 1990   Hardcover
       Amazon.com         Amazon.co.uk
---
       This book, Miriam's brother Nick describes the home in Normandy where F. C. Frieseke raised their mother; it includes many photographs of the Frieseke family. Descriptive information and reviews are available at Amazon.com
 


A Place in Normandy

; Nicholas Kilmer   Hardcover   OP*
Rising Dove Bookstore has a few copies at $4.65 each. They are in good condition with remainder marks and fair dust jackets. Shipping/handling within the U. S. is $4.00.


contact

customer service
 


A Place in Normandy

; Nicholas Kilmer.   Henry Holt   Paperback
       Amazon.com        Amazon.fr
More by Nicholas Kilmer
 
F.C. Frieseke Internet Resources
 
Frieseke Sitemap
 
Rising Dove Bookstore Categories