more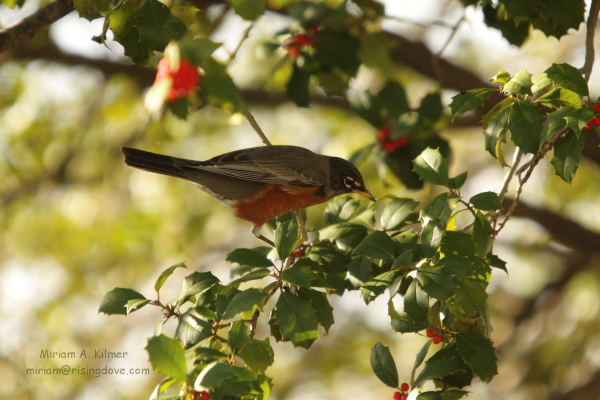 ""Robin Thrush Feasts on Holly #1"
  Order ID = 20121223_CopyrightKilmer_0059   © 2012 Miriam A. Kilmer
       This computer-enhanced digital photograph was taken outside First Christian Church of Alexandra, Virginia, two days before Christmas. My husband and I were about to enter the building when we heard a terrific racket. A flock of robins had discovered a holly tree bursting with ripe holly berries. Their enthusiasm was inspirational. Most of my photographs of the event were blurred by the speed of their attack, but I got this sharp picture of one robin thrush enjoying his meal.
 
       I am inspired primarily by my reverence for nature. My pictures come from many places, such as my native Virginia and other states I have visited, notably the southwest landscapes of Arizona and New Mexico. I love the challenge of photographing animals: birds - especially baby birds and their nests - butterflies, cats, deer, and so on. I am fascinated by the power of the camera to freeze moments which pass so quickly they are easily missed. These include not only living things such as flowers and trees blowing in the wind, but also rocks, cliffs, clouds, and landscapes as they are changed by wind, storms, and shadows in shifting sunlight from sunrises to sunsets and twilight.
 
       When choosing which of my thousands of images to offer as giclée prints, I look for a spiritual quality, dramatic composition and sumptuous color. Here are some of my featured and most recently added images.
 
       Whether you choose to order prints or are simply here to browse, I hope you enjoy the pictures I exhibit.
 
       I had a Solo Show at The Art Group in Mount Jackson, VA, in April 2008.