It's Only the Cannon

; Frances Frieseke [Kilmer]. Illustrated by Frederick C. Frieseke. Introduction by Nicholas Kilmer. Hollis Taggart Galleries, NY, 2001.   Quality Paperback.   ISBN 0970444508   Available in select Museum gift shops.

This book is sold through Amazon.com and Alibris.

       In 1934, Frances Frieseke, then aged about 20, presented to her mother a hand-written copy of her memoirs of World War I, illustrated by her father, American Impressionist painter Frederick C. Frieseke.
 
       Unlike the popular children's books about little girls meeting painters in Giverny, this story reflects the recollections of a real person. Frances Frieseke, an American painter's daughter, was born in Paris on the first day of open hostilities between France and Germany at the outset of World War I. At about the age of twenty, she set down her own recollections of the war years in Paris and Giverny. Her father, American Impressionist Frederick C. Frieseke, provided the illustrations for the original manuscript. Here the text has been type-set for legibility. Children and adults alike will delight in the charmingly-illustrated story, while students of Frieseke's paintings will recognize scenes from his museum canvases, such as the well-known "Peace," long displayed at the Corcoran Gallery of Art in Washington, DC.
 
       A delightful photograph of Frances in Givery, June, 1917, graces the back cover. The three-year-old looks ready to take a bow after dancing in the garden.
 
Foreword by Nicholas Kilmer, the author's son, author of Frieseke: The Evolution of an American Impressionist

and

A Place in Normandy

.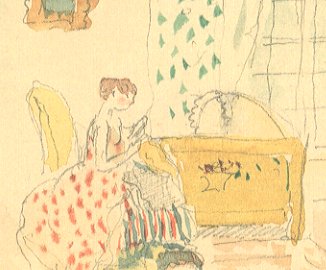 Larger image

       Frances recalls Frieseke painting "Peace" (now at the Corcoran Gallery of Art, Washington, DC): "Louise, if you jump so every time the cannon booms," gently remonstrated my father, "I will not be able to paint."

Also see

Chamber Works by Frederick C. Frieseke.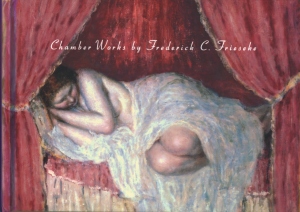 More Frederick C. Frieseke Books and Products
 
More by Nicholas Kilmer
 
Please check out the Frieseke Posters!
 
F.C. Frieseke Internet Resources
The Frieseke reproductions on this page are from

Chamber Works by Frederick C. Frieseke

and

It's Only the Cannon

, copyright Hollis Taggart Galleries and the Kilmer Family Trust.